Our online store offers a wide range of CBD Crystals that are 100% legal in Europe.
It is a product that can be pure of CBD crystals, which makes it an especially popular product for consumers who want to fully enjoy the effects of cannabidiol and not have any trace of THC. Crystals with a greater CBD content than CBD oils or CBD resins, which have a CBD content of less than 35%.
CBD crystals are a great way of getting high-quality CBD at affordable prices.
CBD crystals are the purest form extract from hemp plants. Continue reading our article What is CBD crystals?
CBD crystals: The purest form cannabidiol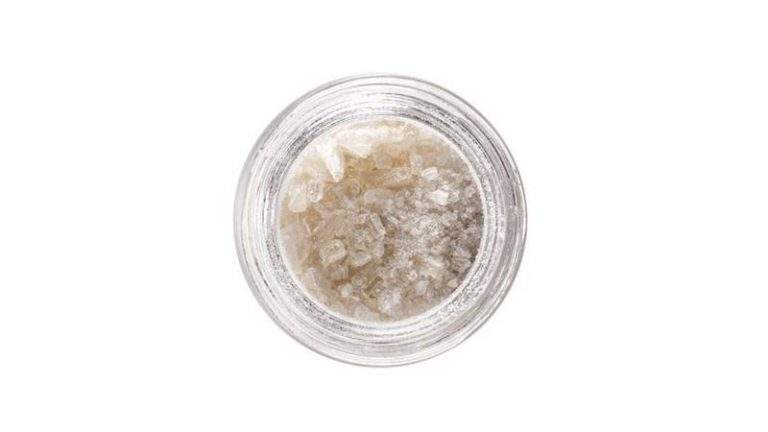 Obtaining CBD crystals is possible by using hemp flowers. The crystals can be more than 98% pure due to the use of very precise extraction techniques. The end result is pure CBD isolate, purified cannabidiol. It has a powdery, crystalline form that resembles fine sugar. CBD crystals contain the purest form of CBD currently available.
How is CBD crystal made?
Making CBD crystals takes a lot of work and involves many different manipulations. The hemp plant undergoes an extraction process in order to separate the plant material from the natural essence (terpenes or cannabinoids). These extraction methods are the same as those used to make CBD oil. extraction using buthanol or co2
Next, a series of steps begins. These include washings and separations from CBD from other substances such as oils, fats… to get a purified CBD isolate in crystal format.
The first step is a wash with acetic acid and hydrocarbon extractant hexane. Next comes the wintering step, which separates lipids waxes and fats. Then, impurities and unwanted plant parts are removed. The extract must be heated and pressure removed. Next, the compound must then be refined by separating cannabinoids using different chemicals at different rates. The additional chemicals must be removed through distillation before the final product can be consumed.
After solvents and impurities are removed, crystal cannabidiol is 99 percent pure.
How to use CBD crystals
Cheap CBD crystals are available in many ways. This offers consumers many choices.
Dabbing
This is the most effective and popular method of using CBD crystals. It allows one to immediately feel the purity of the product, as well as the effects. This requires special buffering equipment, which must be learned. This technique is easy to master with some practice. To inhale the white smoke, simply place some CBD crystals on a small ceramic plate.
Vaping
Vaping CBD Crystals is an alternative to traditional dabbing. You don't need any accessories for dabbing, as you can use your vaporizer. Place the CBD crystals in the vaporizer and heat them until they are vaporized.
Sublingual method
The easiest way to inhale CBD crystals is to simply dissolve them under the tongue. Put the crystals in your mouth, and wait between 60-90 seconds. The CBD crystals are then absorbed directly into the bloodstream, resulting in almost instantaneous effects.
Mix with eliquid
You can mix CBD in its crystal form with e liquids in order to use it in an electronic cigarette. Mix the desired amount of CBD with the e liquid. It may take some time to dissolve the crystals depending on how thick the e-liquid is. The dosage is the same as for an oil.
An e liquid that contains 1000 mg of CBD crystals in 10ml of eliquid results in an eliquid containing 10% CBD. This is 1000 mg CBD.
An e liquid that contains 500 mg CBD crystals in 10ml of eliquid results in an e liquid that contains 5% CBD = 500 mg CBD.
Make edibles
You can also infuse CBD crystals with any other natural fat, such as butter or pure oil. Add your CBD crystals to butter or cooking oils and heat it up until the temperature reaches 60-70 degrees. Mix the ingredients together for five minutes, stirring until they dissolve. You can then make any kind of desserts or cookies you like.
How do you dose CBD crystals?
It is safe to consume too little CBD. You should not take more CBD than you need. This will result in relaxation that is greater than you expected.
Your weight, metabolism, and health all play a role in the dosage. We recommend that you start with 5-25mg pure CBD daily. The correct dosage will affect the quality of your experience. The recommended daily dosage of CBD crystals is 2.5 to 3.3mg. It is also important to listen and respect your body. After taking your first dose, you should wait for 3-4 hours. You should wait 3-4 hours before you take the next dose. Once you notice an effect, continue to take this dosage for approximately a week to see the changes in your body and mind. You can adjust the dose to achieve the desired effect. You should not rush this process and make only minor adjustments.
The purity of this CBD derivative in crystals is what makes it legal in France and Europe. To make your decision, contact our customer service. They will be happy to provide their opinion on the purity and articles in the 500mg or 1,000mg CBD crystals.